Tracey Stewart shares her home and life with two children, a husband (Jon Stewart, "The Daily Show" host — maybe you've heard of him), four dogs, a hamster, two pigs, a pair of cows, three rabbits, two guinea pigs, a couple of fish and a parrot. That's a lot of sharing and a lot of animals — and that's just the way Stewart wants it. "My relationship with animals has been intense and wonderful since the day I was born," says the author of "Do Unto Animals."
A warm and gentle guide,"Do Unto Animals" aims to make your relationship with animals intense and wonderful, too. You don't have to share a home with 17 of them to make a difference. "I've found there is a real benefit in having a close relationship with your local shelter," Stewart says. "Shelters are usually understaffed, overworked and usually open to any kind of help you have to offer—time, encouragement, money, access or expertise." She also encourages virtual adoption — championing your local shelter and spreading the word about an animal who needs a good home.
Both "Do Unto Animals" and Stewart's loving lifestyle website Moomah reveal her gift for encouraging you to step away from your overscheduled workaday world and connect — to yourself, to a friend, to a tree, to a stranger, to an animal. Stewart's favorite way is to be hands on. Really hands on. Give your dog a massage — Stewart's book, with adorable illustrations by Lisel Ashlock, shows you how. Meet a pig. Make it happy. Rub its belly.
And where might you find a pig? Stewart's a big supporter of Farm Sanctuary and other such places where you can "get you up close and personal to many animals that we don't have the good fortune of running into in our everyday lives."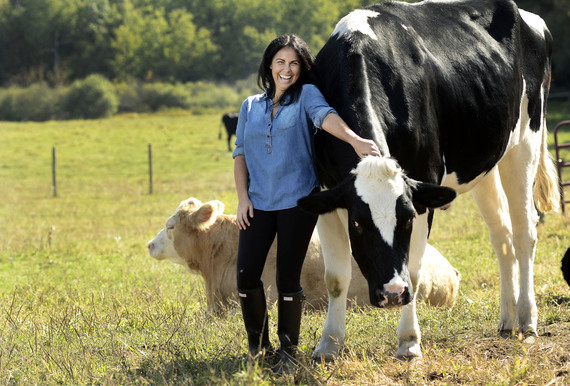 Photo by Heather Ainsworth.
All the Stewart animals are rescues, but the way the author sees it, they've rescued her right back. She credits Enzo, the shelter dog she adopted in her underconfident twenties, with showing her the power of unconditional love. A former veterinary technician, Stewart is happiest when "my animals and family can be around me and a big cup of coffee is within reach."
She wants every animal in need to be safe and cared for, but even she can't house them all. Her two-fold solution — writing "Do Unto Animals" and starting a small animal sancuary of her own. Stewart calls it her therapy. "If I focused on all the injustices in the world I could easily become incredibly disheartened. I choose instead to focus on what is right in the world and then actively work towards making positive change."
Stewart wound up changing herself. A celiac sufferer and longtime vegetarian, she'd managed to convince herself going vegan would be too hard. "Writing the book and spending lots of time with the animals at Farm Sanctuary inspired me to learn more. Once I learned more, I knew I had to do better."
Stewart used her own affinity for being hands-on to go vegan, bringing a vegan friend to food shop with her. "She took me down every aisle, teaching me what the best substitutes were. She coached me on what was delicious."
Delicious is what vegan food is about, and it makes animals almost as happy as giving them a belly rub. "The beautiful thing was the transition was so much easier than I thought," says Stewart. "Everything I had feared would make my life more difficult and sad actually did the opposite."
Kale and Quinoa

Yummy, speedy, gluten-free and animal-friendly, what's not to love? Tart this dish up with a handful of your favorite chopped herbs, pair it with grilled vegetables or tempeh or serve with a salad. Doubles like a breeze, keeps covered and refrigerated for several days.

Ingredients

1

cup

quinoa

rinsed and drained

2

cups

water or vegetable broth

⅓

cup

pine nuts

2

tablespoons

olive oil

2

cloves

garlic

chopped

1

pinch

red pepper flakes

1

big bunch kale

about 3 cups, tough stalks removed, leaves sliced into skinny bite-sized ribbons

2

tablespoons

nutritional yeast

1/2

cup

white wine or vegetable broth

sea salt and fresh ground pepper to taste

Instructions

In a medium-sized pot, bring water or vegetable broth to boil. Add quinoa. Reduce heat to low and cover. Cook quinoa for about 12 to 15 minutes or until all liquid is absorbed and quinoa is plumped. Remove from burner and set aside to cool.

Place a large dry skillet over medium-high heat. Add pine nuts. Toast nuts, stirring or give pan a shake every few minutes, until nuts are golden brown and smell luscious and buttery, about 5 minutes. Watch the pine nuts or they'll burn up. Trust me on this.

Pour toasted pine nuts into a small bowl and set aside.

Pour the olive oil into the skillet and return to heat.

Add chopped garlic and cook, stirring, until garlic turns soft and golden, about 5 minutes.

Add kale by the handful and stir until kale is just wilted, 3 to 5 minutes.

Stir in quinoa, nutritional yeast wine and season to taste. Cook another few minutes or until heated through. Add toasted pine nuts and toss to combine.
Do you know a Vegan of the Month? Submit your nomination and tell me in 100 words or less why your choice deserves to be Vegan of the Month Each month I pick a winner. The next Vegan of the Month could be you.
Thank you for reading my vegan stories and plant-based recipes. I sincerely love to connect with listeners and would like to hear your feedback, takeaways, "ah-ha!" moments, etc in the comments.

Connect with me for discounts, exclusive tips, and other freebies:
• Join my NEWSLETTER for exclusive content & offers
• Join my social networks on LINKEDIN, TWITTER and FACEBOOK

Want to learn more?
Explore more of my VEGAN RECIPES, and my COOK BOOKS.
Do you want a happier life, a greener plate, and a delicious world? Then sign up for VEG THERAPY.