Originally posted 01/26/2015 for Huffington Post
Tales From the (Vegetarian Flavor) Bible
Food luminaries Karen Page and Andrew Dornenburg wrote the book on flavor. Twice. First with "The Flavor Bible" in 2008 and now with "The Vegetarian Flavor Bible," born out the award-winning duo's decision to go meatless.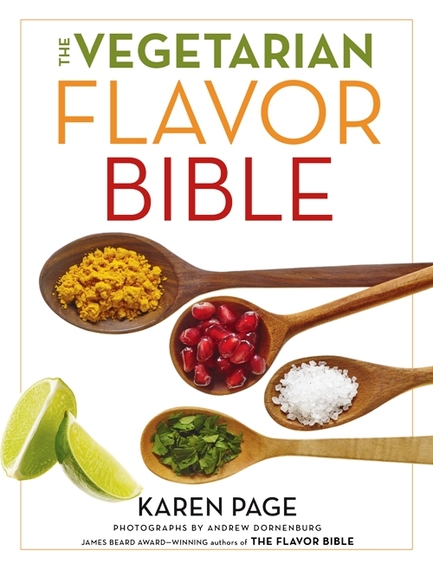 Page and her husband live in a foodie world where omnivores rule, and have been since their first book, "Becoming a Chef" came out to great acclaim 20 years ago. But in 2009, "It hit me," says Page. "My father had passed away, Andrew had lost both his parents — all to cancer. We could no longer ignores the headlines we'd been reading."
Originally from the midwest, Page "grew up thinking a meal wasn't a meal unless there was meat in it." Dornenburg's first job? McDonald's. Here they are, six years on, celebrating Veganuary .
Dornenburg's professional kitchen talents go far beyond the golden arches, which made the meatless transition easier. So did realizing they could still eat at their favorite restaurants. "We love Ethiopian food, so instead of the lamb stews, we get the vegan stews and we love it more," says Page. "It's lighter on our system." Turns out the Mexican restaurant they've been going to for 20 years has a meatless menu they hadn't even known about. "We felt no sense of loss whatsoever." And through interviewing vegan chefs for "The Vegetarian Flavor Bible," Page, a flavor geek, "came to realize meat isn't the heart of the flavor at all. It's in the vegetables and herbs and spices."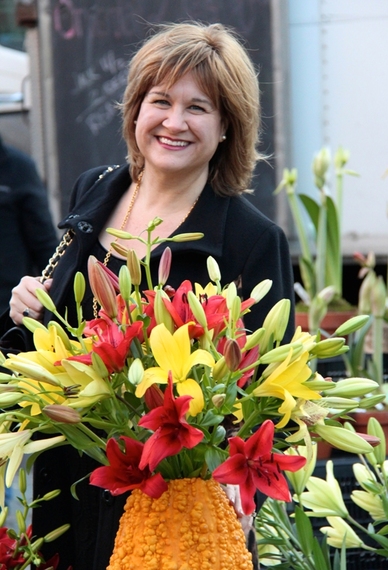 Page defines flavor as more than "what takes place on your tongue There's taste, mouthfeel, aroma, and the X Factor," that hard-to-define something affecting all your senses and "the heart, mind and spirit", too. The X Factor is why your mother's spaghetti tastes better than Mario Batali's (although even Mario has embraced Meatless Monday. It was the X Factor that changed Page's mind about meat. She could no longer enjoy eating it knowing the health risks. And the more she learned about livestock production, the less appetizing it became. "Two hundred and fifty million chicks are killed each year because they're born male. That number went to my head. . . and my heart. I couldn't be part of that process." With animal welfare concerns making front page news last week,"I don't see how people can continue to ignore it," says Page.
The woman knows her stats, but she's also discovered spiralizing, sea salt and other techniques and ingredients that make produce pop. Still craving animal? "The Vegetarian Flavor Bible" offers pages of plant-based alternatives, swapping capers or miso for anchovies, smoked tofu for bacon. It teaches you about flavor affinities so you can build great vegan flavor in the kitchen, or as Page had to do recently, at the airport, skipping the beef broth in a bowl of noodles and getting extra soy sauce, instead.
Going meatless may be an ethical choice, environmental, or maybe it's about wellness. It can also be delicious.
Click To Tweet
Going meatless may be an ethical choice, environmental, or maybe it's about wellness, "but it can also be delicious. I believe that," says Page. "Ultimately, it gets down to pleasure. And flavor."
Gomen Wat (Ethiopian Collard Stew)

This is an easy version of a traditional Ethiopian stew, or wat. It's full of flavor with no meat whatsovever. Wats are usually served with injera, an amazing spongy bread made from teff. Should you find yourself fresh out of injera, serve with rice, millet or scooped up with the flatbread of your choice.

Ingredients

2

tablespoons

grape seed or coconut oil

1

large onion

thinly sliced

4

garlic cloves

minced

1

tablespoon

freshly grated ginger

1

jalapeno

seeded

1

sweet red pepper

chopped

1

pound

collard greens

washed, tough central stems removed and shredded or chopped fine

1/2

vegetable broth or water

1

cinnamon stick

1

teaspoon

turmeric

1

teaspoon

allspice

sea salt to taste

Instructions

Heat oil in a large skillet over medium-high heat. Saute onions, stirring, until they soften and turn translucent, about 5 minutes. Add garlic, ginger, red pepper and jalapeno (wearing gloves prevents chili burns). Cook, stirring, until the vegetables soften — about 5 more minutes. Drop in cinnamon stick, stir in turmeric and allspice.

Add the chopped collards by the handful. Work them in with the other vegetables and spices. As they soften, add vegetable broth or water. Cover, reduce heat to medium. Cook till heated through, another 10 minutes. Remove cinnamon stick, add a nice pinch or two of sea salt and serve.
Thank you for reading my vegan stories and plant-based recipes. I sincerely love to connect with listeners and would like to hear your feedback, takeaways, "ah-ha!" moments, etc in the comments.

Connect with me for discounts, exclusive tips, and other freebies:
• Join my NEWSLETTER for exclusive content & offers
• Join my social networks on LINKEDIN, TWITTER and FACEBOOK

Want to learn more?
Explore more of my VEGAN RECIPES, and my COOK BOOKS.
Do you want a happier life, a greener plate, and a delicious world? Then sign up for VEG THERAPY.