Originally posted on for Huffington Post
Meatless Monday: Barbecue Guru Steven Raichlen Fires Up the Meatless Grill
"You've got a fire, bed of blazing embers, a large hunk of red meat — those are thrilling to behold," says grilling guru Steven Raichlen. "You get this incredible aroma of roasting flesh, smoke, it brings you makes your mouth water, your nostrils flare. It's part of the human DNA." But humans can evolve. Raichlen, an ardent carnivore, has been getting into Meatless Monday.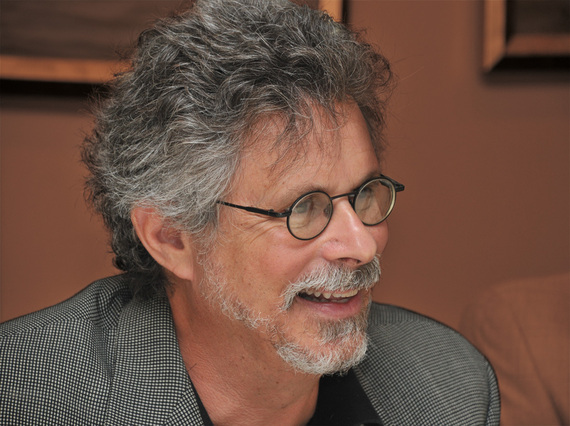 How could such a thing happen? Raichlen's daughter, dietician for the Miami Heat, adheres religiously to Meatless Monday," says the "Primal Grill" star."There's so many reasons — for the health of the planet, for a lower carbon footprint, for the health of the human being."
Raichlen is about more than meat. Dean and founder of Barbecue University, Raichlen got his graduate degree in French literature and studied at famed French culinary schools including La Varenne and Le Cordon Bleu. His 28 cookbooks have earned 5 James Beard Awards. he's author of the novel "Island Apart." He's an "Iron Chef" champ.
What his hardcore fans care about, though, is "barbecuing a big, monolithic hunk of meat." Raichlen, a "global grilling fanatic," wants them to taste the "sophisticated tradition of meatless grilling. It's not fringe food. It's totally mainstream." And totally yummy. Raichlen grills a repertoire of meatless wonders including jalapeno quesadillas, Thai rice cakes, Indian tandoori potatoes and Indonesian grilled tofu with peanut sauce.
What makes vegetables so delicious on the grill? "Caramelization," says the man who owns upwards of 30 grills. "You burn the plant sugars slightly, in a controlled way. It makes roasted corn taste sweeter than boiled corn. Roasted pepper, when the skin is charred, taste supernaturally sweet and smokey and flavorful. There's also a process of evaporation — you cook out some of the water and concentrate the flavor."
Raichlen still makes your mouth water and nostrils flare, he's just doing it with dishes that give vegetables the grilled glory they deserve. Get used to it. "You'll see more people incorporating grilled vegetables into meat dishes in America," he predicts."Everyone sort of realizes a steady diet of meat is not the best thing for your health or the best thing for your planet."
Raichlen's still an ardent carnivore. But he's cooking and eating meat a little less often and making vegetables the focus a little more. "I think about my daughter and son-in-law raising three kids for whom the notion of Meatless Monday is going to seem as natural as the sun rising in the east," he says. "I think that's great."
Grilled Tofu with Chile Peanut Sauce (Tauhu Bakar)

In Raichlen's hands, tofu reveals itself to be "one of the greatest grilled meatless dishes on the planet. The secret? Charring the tofu over a blistering-hot fire and serving it with cool, crisp pineapple and cucumber and an intensely flavorful chile peanut sauce. Rarely has bean curd met fire with such felicitous results."

Ingredients

3

tablespoons

vegetable oil

4

cloves

garlic

minced

2

medium-size shallots minced

about 6 tablespoons

1

piece

1 1/2 inches fresh ginger, peeled and coarsely chopped

2

tablespoons

minced fresh cilantro

1

teaspoon

shrimp paste

optional

1/4

cup

Malaysian or Chinese chile paste

1/4

cup

firmly packed palm sugar or light brown sugar

1/2

cup

hoisin sauce

1/4

cup

finely chopped roasted peanuts

1

tablespoon

sesame seeds

1

large or 2 small cucumbers

peeled and seeded

1/2

fresh pineapple

peeled

2

cups

fresh mung bean sprouts

About 1- 1/2 pounds fried or extra-firm regular tofu

Instructions

The sauce can be made several hours ahead. If you are using fresh tofu, allow 30 minutes for pressing it.

Heat the oil in a wok or shallow saucepan over medium-high heat. Add the garlic, shallots, ginger, cilantro, and shrimp paste, if using, and cook until fragrant and lightly browned, about 3 minutes.

Stir in the chile paste and palm sugar and cook until the sugar dissolves, about 1 minute. Add the hoisin sauce, 2 tablespoons of the peanuts, and the sesame seeds and cook until fragrant, about 1 minute.

Add 2/3 cup of water, reduce the heat to medium, and let the sauce simmer until it is thick and richly flavored, about 5 minutes, stirring often. If the sauce is too thick, add a little more water.

The chile peanut sauce can be made several hours ahead and stored at room temperature.

Cut the cucumbers crosswise into 1-1/2 inch-long pieces. Cut each piece lengthwise into approximately 1/4-inch x 1/4-inch sticks. Cut the pineapple crosswise into 1/4 inch-thick slices. Cutting around the core, cut each pineapple slice into sticks that are approximately 1-1/2 inches long and 1/4 inch wide. Arrange the cucumber, pineapple, and mung bean sprouts in individual piles on a platter.

Starting at a short end, cut each piece of tofu in half through the thickness to obtain 2 broad "steaks." If you are using fresh, not fried tofu, you will need to press it to drain off the liquid and make the tofu firmer. Position a baking sheet or cutting board on a slant in a sink. Arrange the 4 pieces of tofu on top. Then place a second baking sheet or cutting board on top of them. Place a heavy weight, such as a cast-iron skillet, on top of the baking sheet or cutting board and let the tofu drain for 30 minutes.

Set up the grill for direct grilling and preheat it to high.

Lightly brush each piece of tofu on both sides with a little of the chile peanut sauce. Spoon the remaining sauce into a bowl and sprinkle the remaining 2 tablespoons of peanuts on top.

When ready to cook, brush and oil the grill grate. Arrange the tofu pieces on the hot grate and grill them until nicely browned on both sides, 2 to 4 minutes per side. If you like, give each piece a quarter turn after 1 minute to create a handsome crosshatch of grill marks.

Transfer the grilled tofu to the platter with the cucumber, pineapple, and bean sprouts and serve at once. Eat the grilled tofu with some of the chile peanut sauce spooned over it, alternating bites of crisp cool cucumber, pineapple, and bean sprouts.

Notes

Reprinted with permission from "Planet Barbecue" by Steven Raichlen, copyright 2010. Published by Workman.
Thank you for reading my vegan stories and plant-based recipes. I sincerely love to connect with listeners and would like to hear your feedback, takeaways, "ah-ha!" moments, etc in the comments.

Connect with me for discounts, exclusive tips, and other freebies:
• Join my NEWSLETTER for exclusive content & offers
• Join my social networks on LINKEDIN, TWITTER and FACEBOOK

Want to learn more?
Explore more of my VEGAN RECIPES, and my COOK BOOKS.
Do you want a happier life, a greener plate, and a delicious world? Then sign up for VEG THERAPY.