Sample the Value Add for Whole Grains Sampling Day
2) We eat more than lettuce (hell, wouldn't you?).
That's why we're excited about Whole Grains Sampling Day on Wednesday, March 29th. Whole grains pack a protein punch and a whole lot more, including vitamins and minerals galore. With their intact brans and germ, fiberiffic whole grains add substance to recipes and provide satiety when you eat them — that happy belly feeling. They're all about the value-add.
America is happier than ever. Since Oldways' Whole Grains Council launched Whole Grains Sampling Day five years ago, we're eating more of them. So which whole grain's going to get your love on Whole Grains Sampling Day?
Robin Asbell, chef, culinary instructor and author of cookbooks including "The Whole Grain Promise" "made "my 'Sophie's Choice''' and picked freekah. This ancient whole grain has "full flavor chewy texture, and quick cooking times. The process of making freekeh gives it a subtle smokiness, and we know that smoke flavors are sources of umami, giving the grain a more substantial mouthfeel," she says. "Freekeh deserves to shine."
Shine it does in Asbell's spring-perfect recipe — exclusive here, folks: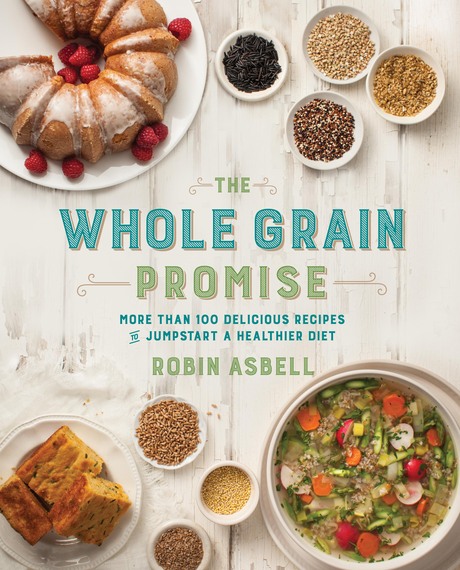 Sorrel-Freekeh Tabouli

Asbell urges you to wash the sorrel carefully. Grit can lurk in these richly lemony leaves.

1/2 cup cracked freekeh
1 cup water
1 cup (gently packed) sorrel leaves, ribs removed
1 cup fresh mint leaves, also gently packed
1 lage clove garlic
3 tablespoons extra virgin olive oil
1/2 teaspoon salt, lots of cracked black pepper
1/2 cup diced seedless cucumber
1/2 cup cherry tomatoes, chopped
1/4 cup chopped chives or scallions

In a small saucepan with a lid, bring the freekeh and water to a boil. Cover, reduce heat to low, and simmer for 20 minutes.

Check it in 10. If your burner doesn't go low enough, it may have boiled off the water too quickly. Just add more, cook for the 20 and then let stand for 10 minutes more to absorb. If there's extra water in the pan, drain the grain. Cool to room temperature.

In a food processor, put the sorrel, mint and garlic. Process to mince finely, scraping down and processing again. Add the oil and process until smooth. Add salt and pepper and pulse to mix. Pour over the cooled grain. Add the cuke, tomatoes and chives or scallions, and toss to mix.

Serves 2 as a side, can become a main course with the addition of a cup of cooked garbanzos or a handful of toasted shelled pistachios.
Whole Grains Sampling Day is a nationwide party and everyone's invited — including you, gluten- sensitive souls. A dozen gluten-free whole grains deliver the good feeling and nutrition, including Shannon Kinsella's GF whole grain of choice, sorghum.
As recipe developer with Gourmet Garden, Kinsella loves sorghum's mild taste and big, fat, chewy grains, like pearl Israeli couscous, but with all the grain and none of the gluten. I'd known sorghum only as a sweetener, but after Kinsella threw together a sumptuous sorghum salad on the fly during a CookNscribble workshop, I've been adding it to Middle Eastern dishes or making it the supporting actor in Mediterranean salad likes Kinsella's, with olives, fresh tomatoes, and cucumbers, lavished with green herbs and dressed with a simple bright vinaigrette.
Whole grains go with every kind of seasonal vegetable (including lettuce) as well as, nuts, beans, seeds, fruit, fresh herbs, dried spices, soy, ginger, garlic, sriracha. . . . I can keep going. But remember — we don't just eat lettuce. Whole grains can also be the basis of desserts like this one below.That's right, friends, two recipes in this Meatless Monday. Because whole grains and Whole Grains Sampling Day is all about the value-add.
Eat well, Tweet well. Happy Whole Grains Sample Day.
Buckwheat and Almond Tea Cake

Buckwheat, my whole grain pick for Whole Grains Sampling Day is gloriously gluten-free and despite its alarming name, wheatless. Buckwheat, kin to sorrel and rhubarb, loves many of the same flavors we do — nuts, apples and maple. They all come together in this tea cake/quick bread. It tastes tantalizingly of caramel but provides a gluten-free high-energy breakfast or afternoon pick-me-up. It's a cake to celebrate Whole Grains Sampling Day.

Ingredients

1

cup

buckwheat flour

sifted

2

teaspoons

baking powder

2

teaspoons

cinnamon

1

cup

blanched almonds

* toasted and ground

1/3

cup

grapeseed

sunflower or other neutral oil

1

cup

unsweetened apple sauce

1/4

cup

pure maple syrup

1/4

cup

evaporated cane sugar

1/2

teaspoon

almond extract

2

teaspoons

powdered sugar for garnish

optional

Instructions

Preheat oven to 350 degrees. Lightly oil an 8-inch cake pan.

In a large bowl, sift together the buckwheat flour, baking powder and cinnamon. Pour in the ground almonds, Stir well to combine.

In a separate bowl, gently whisk together grapeseed or other neutral oil, apple sauce, maple syrup, evaporated cane sugar and almond extract.

Pour the apple sauce mixture into the buckwheat and ground almonds. Fold them together with a light hand until flour is entirely incorporated and mixture forms a batter.

Pour batter into the prepared cake pan. Bake for 45 minutes. Cake should be sweet-smelling, rich cinnamon brown and spring back when prodded gently with a forefinger.

Let cool. Sprinkle with powdered sugar, if desired.

Notes

*To blanch almonds, pour whole raw almonds into a small heatproof bowl.  Cover with boiling water and leave for 15 minutes.  Drain. Rub the almonds between your fingers. Their skins will slip off off, leaving you perfect, bare nut kernels.
Thank you for reading my vegan stories and plant-based recipes. I sincerely love to connect with listeners and would like to hear your feedback, takeaways, "ah-ha!" moments, etc in the comments.

Connect with me for discounts, exclusive tips, and other freebies:
• Join my NEWSLETTER for exclusive content & offers
• Join my social networks on LINKEDIN, TWITTER and FACEBOOK

Want to learn more?
Explore more of my VEGAN RECIPES, and my COOK BOOKS.
Do you want a happier life, a greener plate, and a delicious world? Then sign up for VEG THERAPY.