Diwali, India's Festival of Lights, starts Wednesday, but get a jump on the spice-scented celebration with Vegan Richa.
Originally posted on 07/13/2015 for Huffington Post

Indian Spice Meets American Speed in 'Vegan Richa's Indian Kitchen'
"I always wonder why people are not comfortable with Indian food," frets Richa Hingle. "It's so delicious." It's richly spiced, deeply nuanced, and above all, slow. "Indian food is about slow and patient."
In America, though, we like things fast — fast pace, fast cars, fast food. Hingle, born in India and living in Seattle, has been working the tricky balance between new and fast and slow and traditional, and making it vegan, too. First came her blog Vegan Richa, which she began 2009 (tagline: Eating plants till we photosynthesize). Now there's her book "Vegan Richa's Indian Kitchen."
Hingle goes beyond the curries at your local Indian takeaway. "The common problem is they do the same dishes, with heavy cream and ghee [Indian clarified butter] and never explore India's regional cuisine, based on vegetables and different spices." Hingle, a Northern Indian with Punjab parents, grew up in Central India and she knows the difference. She presents her country's vast array of regional recipes but speeded up and simplified for busy Americans.
Confused about curry? Hingle demystifies. "Curry can mean anything. It's a loose term for anything saucy or spicy." She'll save you steps on traditional Indian recipes, substituting vegetables and beans you can find here for those more common in India. "I don't even know the names of some of the vegetables — I've eaten them but you won't find them here, they're so local and seasonal." She does urge you to use the fresh herbs, spices and seeds that provide authentic Indian flavor. "Do not use curry powder."
Back home, Hingle would sometimes help her mother in the kitchen, but her creations were a little too freewheeling and fusiony for her father. When she came to America for her master's degree in computer software engineering, she ate her share of frozen Indian meals or pizza but "I found McDonald's or other burgers too greasy and unhealthy," she says. "I started cooking."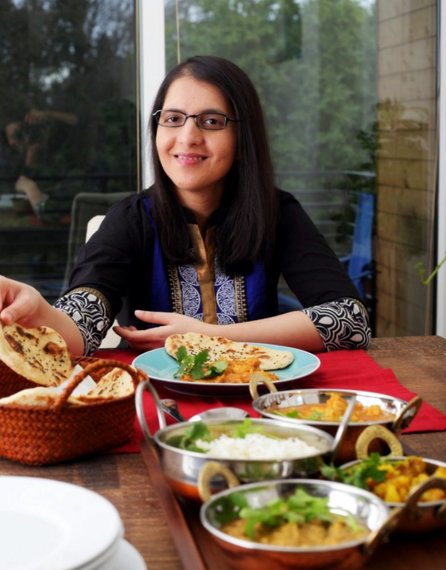 Hingle became vegan as she recovered from illness and after she and her husband adopted their Pomeranian, Chewie. The change happened gradually (we don't do everything fast in America) but it was easy. "Indian food is easily veganized," she says. "Most of the meals are not dependent on cheese or ghee or milk. The sauce is what gives it the flavor."
The exception are Indian desserts. "They're very dairycentric," says Hingle, who's authored an e-book on the Indian sweets she loves. To make them vegan, "you completely change the main ingredient, the processes applied to it. You have to find a new way of coming up with the same flavors you like." She'll keep reworking a recipe until she feels it hits the flavors and textures of the traditional version. Hingle spent years trying nail the vegan rasmalai recipe in her new book. "That's spongy cheese balls in creamy sauce." Perhaps not a great description but an Indian favorite and a must-have at holidays like Diwali. "It's food everybody makes. You have to serve exactly like your mom and grandmom used to make — and everybody has to like it."
It's been over decade since Hingle visited her home, but she still speaks of it fondly. "Everybody starts cooking in the morning and planning for lunch and dinner, sometimes two or three days in advance. There's something happening in the kitchen all the time." The lessons she learned in her mother's kitchen are as fresh the herbs she cooks with. "We do a lot by smell. Keep the nose around the kitchen to see the spices are not burning. Be patient with the food and know what's going on. You have to be present in the kitchen."
So for someone bridging the old ways and the new, what dish tastes like home? A fast version of a slow-cooked favorite. "Dal [bean curry or soup] with saabzi — a dried vegetable side," she says. "That's the perfect meal."
Recipe from "Vegan Richa's Indian Kitchen," Copyright 2015 by Richa Hingle. Used by permission Vegan Heritage Press, LLC.

If you want to impress someone with a dal, make it this one. Don't be afraid of the number of spices--it is quite simple to make. The spices and garlic are blended to a paste and fried in the oil. A hot sauce (chiles, garlic, and vinegar) in the tadka is another secret to getting the right flavor profile. Serve this as a part of a meal, or with rice or naan or other flatbread.

Ingredients

3/4 cup brown lentils, washed and drained
2 cups water
2 to 3 teaspoons safflower or other neutral oil
1/2 cup finely chopped red or white onion
6 cloves garlic, chopped
1/2 teaspoon ground cumin
2 teaspoons ground coriander
1/2 teaspoon ground cardamom
1/2 teaspoon ground cinnamon
1/2 teaspoon fenugreek leaves or 1/8 teaspoon fenugreek seeds
1 teaspoon sweet or hot paprika
1/8 teaspoon nutmeg
1/4 teaspoon black pepper
1 1/2 tablespoons sriracha or other hot sauce, to taste
2 tablespoons water
1 1/2 cups chopped tomato
3/4 teaspoon salt
2 tablespoons chopped cilantro, for garnish
1 tablespoon vegan butter (optional)

Instructions

Combine the lentils with 2 cups of water in a saucepan. Partially cover and cook over medium heat until the lentils are tender, 25 to 30 minutes.
While the lentils are cooking, make the tempering. Heat the oil in a skillet over medium heat. Add the onion and cook until golden brown, 5 to 6 minutes.
In a blender, combine the garlic, cumin, coriander, cardamom, cinnamon, fenugreek, paprika, nutmeg, black pepper, sriracha, and 2 tablespoons of water. Blend to combine well. Add this paste to the onions in the skillet. Cook until fragrant, about 2 minutes. Stir in the tomatoes and salt, and cook until the tomatoes are tender, about 8 minutes. Mash the larger tomato pieces.
Add the tempering to the lentils. Bring to a boil over medium heat. Reduce heat and simmer for another 5 minutes. Taste and adjust salt and spice. Garnish with cilantro and vegan butter, if using, and serve hot.

© Soulful Vegan. All Rights Reserved.
Thank you for reading my vegan stories and plant-based recipes. I sincerely love to connect with listeners and would like to hear your feedback, takeaways, "ah-ha!" moments, etc in the comments.

Connect with me for discounts, exclusive tips, and other freebies:
• Join my NEWSLETTER for exclusive content & offers
• Join my social networks on LINKEDIN, TWITTER and FACEBOOK

Want to learn more?
Explore more of my VEGAN RECIPES, and my COOK BOOKS.
Do you want a happier life, a greener plate, and a delicious world? Then sign up for VEG THERAPY.