Originally posted on 09/01/2014 for Huffington Post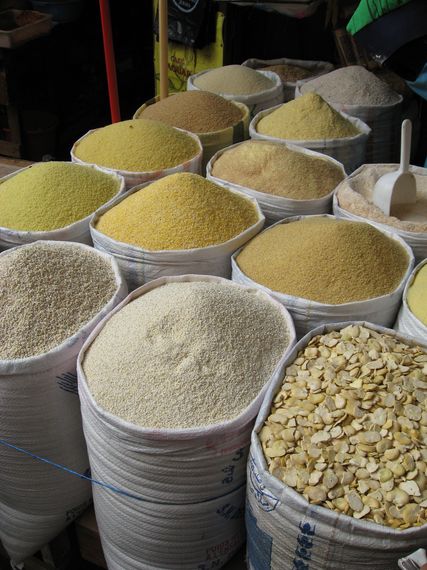 Happy Labor Day and welcome to Whole Grains Month and a big shout-out to the fab folks at the Whole Grains Council, a celebration of amaranth, barley, buckwheat, millet, oats, quinoa, rye, sorghum, spelt, teff, triticale and other whole grain wonders. They're complex carbs for good energy, and offer a host of vitamins, minerals and nutrients refined wheat products lose in processing. Whole grains deliver:
–plant-based protein, that necessary nutrient people think vegans don't get
— fiber to balance blood sugar, lower cholesterol and reduce risk of cardiovascular disease
— satiety, that delicious happy tummy feeling you get when you eat a bowl of wonderful — even if you're gluten-sensitive .
They're shelf-stable, and once cooked, they freeze well and don't fall apart when you thaw them like white rice does. They're cheap, nourishing and built to feed a crowd. From bubbly quinoa to chewy spelt, each whole grain has its own mouth feel and unique but mild flavor that welcomes all manner of flavorings and produce. What's not to love?
I love the Whole Grains Council and the traditional nourishing whole foods of the world they advocate.
You don't have to go old school like me, though. Go for an abundance of whole grain products including cereals, pastas, pilafs, breads, muffins and more.
— Chewy, satisfying udon (buckwheat) noodles instead of white flour ramen noodles.
— Quinoa instead of white rice — more protein and fiber, cooks faster, too.
— White whole wheat flour has the nutritional benefits of whole wheat flour but performs and tastes more like processed white flour.
Spelt will need to soak overnight. The next day, it cooks up beautifully chewy.

Whole grains are the canvas for this Indian-inspired dish. Feel free to "paint" it as you wish -- substitute other sturdy, seasonal vegetables -- zucchini or broccoli -- for the green beans. The peas add a nice pop of color, but chickpeas work well, too.

Ingredients

1-1/2 teaspoons cumin seeds
2 tablespoons coconut oil or neutral oil such as canola
1 teaspoon turmeric
1 teaspoon coriander
1/4 teaspoon cayenne (optional)
2 cloves garlic, minced
1 thumb-sized piece of ginger, peeled and finely chopped
2 onions, chopped
1 serrano or other zesty chile, seeded and chopped
1 red pepper, chopped
1 cup spelt (soaked overnight)
2 tablespoons tomato paste
1-2/3 cups water or vegetable broth
2 cups green beans, cooked and chopped into bite-sized pieces
3/4 cup peas, (thawed, if frozen)
juice of 1 lemon
sea salt and freshly ground pepper to taste
for garnish:
1/3 cup cashews, toasted and chopped
1 large handful cilantro leaves, chopped

Instructions

In a large, dry soup pot, toast cumin seeds over high heat, giving them an occasional stir. Heat until they smell toasty -- about 3 to 4 minutes.
Add coconut or canola oil, turmeric, coriander, optional cayenne, minced garlic and chopped ginger. Stir for a few minutes, until the oil darkens from the turmeric, the ginger and garlic soften and the whole kitchen smells heady with spice.
Stir in the chopped onions, serrano and red pepper. Cover and reduce heat to medium-low, allowing the vegetables to grow tender, about 15 minutes.
Pour in the drained spelt, and stir, then work in the tomato paste and water or vegetable broth.
Raise heat and bring to boil, then cover and reduce heat to medium-low. Allow to simmer for 45 minutes, or until the spelt is plump and tender and most of the liquid has been absorbed -- consistency should be moist but not wet. Spelt will continue to soak up the spice-infused broth as it cooks.
Gently mix in chopped green beans and peas. Cover and allow to cook for another 10 minutes or so, until vegetables are heated through and the flavors meld and deepen.
Squeeze in the lemon juice and season generously with the sea salt and freshly ground pepper. Garnish with the optional chopped toasted cashews and cilantro, if desired.

© Soulful Vegan. All Rights Reserved.
Ellen Kanner is the award-winning author of Feeding the Hungry Ghost: Life, Faith and What to Eat for Dinner ( VegNews' Book of the Year, PETA's debut Book of the Month Club pick), Huffington Post's Meatless Monday blogger, Miami Herald syndicated columnist the Edgy Veggie and soulful vegan writer and recipe developer for numerous publications.
Thank you for reading my vegan stories and plant-based recipes. I sincerely love to connect with listeners and would like to hear your feedback, takeaways, "ah-ha!" moments, etc in the comments.

Connect with me for discounts, exclusive tips, and other freebies:
• Join my NEWSLETTER for exclusive content & offers
• Join my social networks on LINKEDIN, TWITTER and FACEBOOK

Want to learn more?
Explore more of my VEGAN RECIPES, and my COOK BOOKS.
Do you want a happier life, a greener plate, and a delicious world? Then sign up for VEG THERAPY.